Typography Trend Report 2015
Creative trends move fast.
Digital communities, Behance first, understand this quite well. They work as a worldwide trend report, creating a network of shared influences and global trends not dissimilar to the ones that fashion designers are used to cope with. Not to be intended as simple copy and paste solutions, these dominant trends are useful to the designers to better understand cultural forces that shape visual taste, and to keep our design sense always fresh.
Many of the dominant visual trends are linked to the mobile revolution. Each design project has today the need to work properly on the small-sized displays of smartphones and tablets. Graphic artifacts must keep readability and recognition, whether at the minimum size of a favicon or at the large sizes of environmental branding. It's not surprising that flat design style, sponsored by major mobile players (Apple and Google), has managed to establish itself outside of the digital world, influencing print and advertising.
Maybe  to contrast this  minimalist style made of round icons and pastel colors, we are now spotting a bold resurgence of hand-drawn lettering, script typography and calligraphic illustration with vintage overtones.
These are our predictions for typography trends for next year, accompanied by a selection of some of the best and most downloaded fonts of 2014.
1.Bold calligraphy
We are witnessing a big rise in script fonts that mimic the smooth curves and bold flourishes of calligraphic brush or blackboard lettering.
Among our favorites Wolf in the City by Maelle Keita, Bowling Script by Sudtipos and Aparo by DSType Foundry. Another Shabby, Armonioso and Bulletto are some of our creations that follow this trend.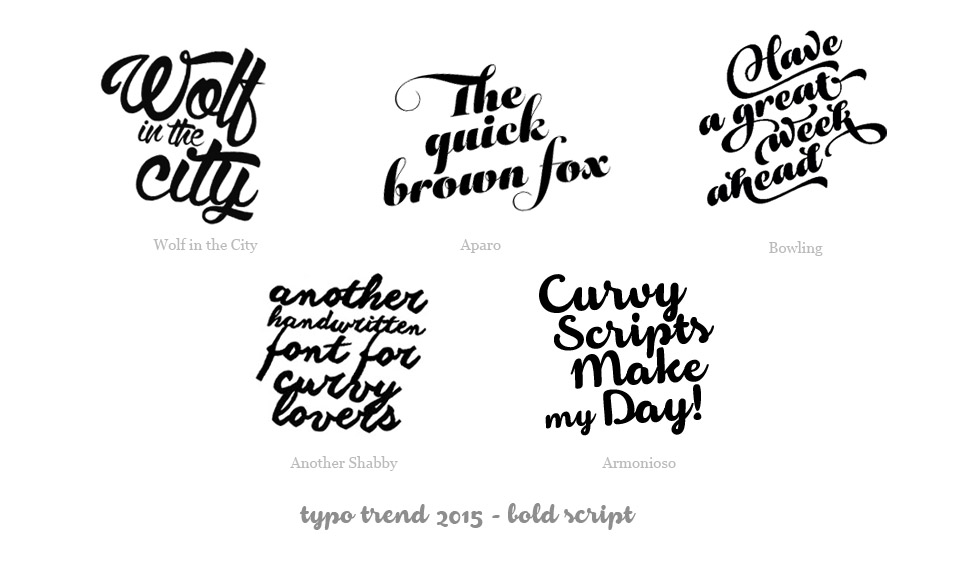 Also on the rise are monoline script – cursive fonts drawn with a constant line weight. This style is matched by monoline logo and illustration design, one of the main trends in 2014 Logolounge logo report.
Among our favorites are the monoline fonts are Sparkle Script (Ryan Keightley), Little Days (West Wind Fonts) and Selfie (Lián Types).


2. Sex & the font
We see around more and more fonts and brand logos taking inspiration from North American industrial graphics and signage of the first half of the last century. The result is a graphic style that combines simplicity, geometry and vintage feel – widely used in the field of food branding.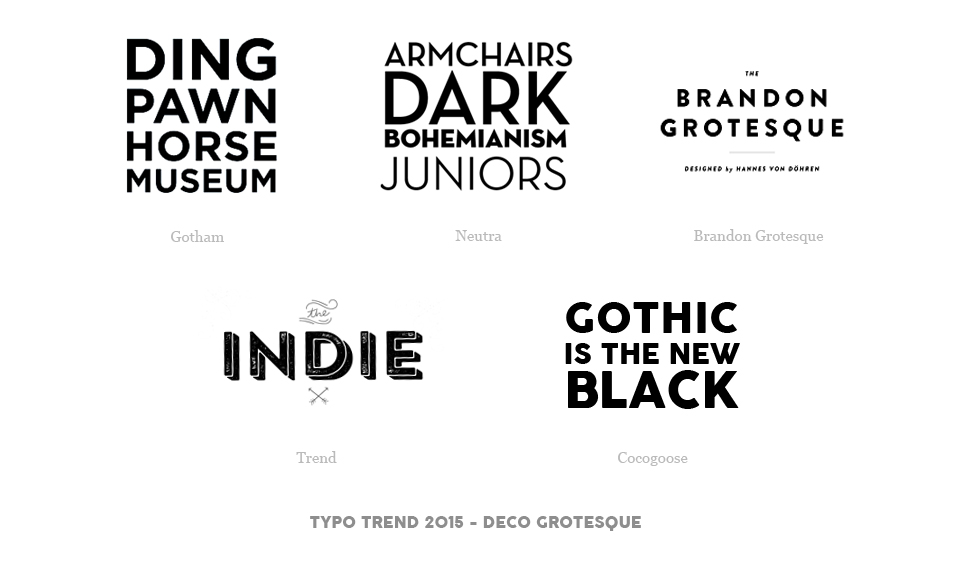 The most famous typeface in this style is Gotham, designed in 2000 by Tobias Frere-Jones. Inspired by New York signage and by shapes of modernist fonts like Futura, is well known for its use in the Obama presidential campaign of 2008. Among his followers most popular: Brandon Grotesque (HDV) and Neutra (Neutra (House Industries), probably the most abused typeface of 2014. Our take on this style that could be called deco-grotesque is a slightly rounded grotesque called Cocogoose.

3. Hipster types
Finally, among the typographical trends of 2014 that we are sure to see in the next year, there are those of matrix hipster: geometric sans serifs, somtimes with runic feel, and ultra heavy bodoni, sometimes enriched by the dazzle effect.
In this context, the well-founded popularity of flat design and its style of illustration will not only benefit the characters without thanks and geometric design, chosen almost by default for infographics and visualizations only text data. The need for full and condensed forms, which help in the management of space, thus ensuring the success to historical characters such as DIN Linotype and his modern followers as Dense Charles Daoud and Bebas Neue Ryoichi Tsunekawa.
Will meet this year also the effects dazzle, obtained by removing the thin part of the Bodoni in great contrast as the font Glamor Hendrick Rolandez and Goku Stencil Anthony James, and characters inspired geometric-rune, products immoderate love for triangular shapes the current generation of graphics, such as Neptune by David Massara, Baron by Frank Hemmekame and High Tide by Filipe Rolim.

We expect a 2015 full of nostalgia calligraphy and vintage typography – strongly influenced by vernacular roots. So, better be on the look out for old shop signage and curious typography on the streets to get some inspiration – as was done beautifully by Louise Fili in her book on the italian vernacular signage,  Grafica della Strada.
this blog post is typeset in
Kitsch font family
Click here to find out more